These are 10 speakeasy bars in NYC that you need to checkout.
This Chelsea speakeasy is located inside the Stone Street Coffee Company behind a trick door that pulls out from the back wall. Unsurprisingly, they have a bathtub in the middle of the room that you are welcome to hop in at anytime the moment (or gin) hits you. Bathtub Gin offers a wide range of gin-based cocktails and don't worry, if you don't like gin they have other non-gin drinks. They also have a full dinner menu. On the weekends it gets pretty crowded so if you are trying to eat I would recommend making a reservation.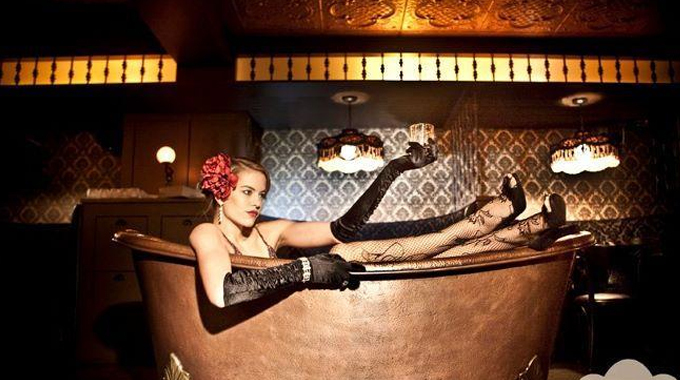 Go inside Village Yokocho, a Japanese restaurant, and look for a hidden door that looks like a basic storage closet. Open that door and you will find Angel's Share. Angel's share is known for its whiskey, so if that is your drink of choice definitely check it out.
Go into Crif Dogs and enter the phone booth. Pick up the phone, dial 1, and an operator will answer to approve your entry. Once approved, the wall of the phone booth will open to let you in to this speakeasy. Not only will you be privy to a delicious selection of cocktails, you will also have access to order gourmet hot-dogs from Crif Dog's kitchen.
As you pull up to this speakeasy, you may be thinking you have the wrong address because you will find yourself at a Five Guys. But enter the Five Guys and head to the back where there will be a set of stairs going up. Upstairs they have a great selection of drinks and they also serve exclusive burgers catered by the Five Guys below.
Raines Law Room is located in Chelsea and to get in you will need to walk down a staircase and ring the doorbell next to an unmarked door. Like most speakeasys, it would be best to make a reservation beforehand because it tends to get pretty crowded. It has a great atmosphere and very fast service. You may notice a lamp string dangling down by your seating, pull that string and a waiter will immediately come over to assist you.
You can find this speakeasy behind a fake psychic. Look for a red-neon sign and live tarot card reader. You will eventually find your way through a curtain and into the bar. To go along with their unique cocktails they also have a delicious food that includes bone-marrow poppers. If you are feeling adventurous you can find the psychic and get your palm read.
Head to Chinatown and look for a neon sign that reads "Chemist", located below is Apotheke. This speakeasy will only let you in if you have a reservation and dressed sharp. Once you get in you will be able notice your bartenders where lab coats (like Chemists, get it?) mixing your cocktails. Although, you may have to dress up more than you are use to, it is definitely worth it and be sure to checkout the flaming absinthe show.
Head down an alley way and look for a fenced off staircase with a sign that reads "Lower East Side Toy Co." Once you find that sign, you will know you are at The Back Room. Inside you will find speakeasy that serves cocktails in white teacups and beer that is served inside brown paper bags.
Located behind a door in the back of a pawnshop, Beauty and Essex is more glamorous than your average speakeasy. This two-story bar located in the Lower East Side is owned by Chris Santos, a recurring guest judge on Chopped, and serves delicious food that is great for sharing. After midnight, it becomes more of a nightclub where you will find people dancing on the tables. Beauty and Essex gets very crowded so if you are trying to eat dinner here, a reservation is definitely recommended.
Look for the door simply labeled "AB" and knock on the door or ring the doorbell. You will be greeted and let in. Head to the bar where you will find expert bartenders. Don't bother asking for a menu because there are none, just ask your bartender what they have and enjoy.
Comments
comments